Cynelle Murray Kunkle, MD: Johns Hopkins UroGyn Fellow
Rwanda: October 2014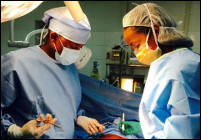 I would like to thank the Benjamin H. Josephson Fund for supporting my medical mission with the International Organization for Women and Development (IOWD) to Kigali, Rwanda. My primary goal for this trip was to provide evaluation and treatment to women with obstetrical fistulas, urologic and general gynecologic conditions at Kibagabaga Hospital. Furthermore, I hoped to teach and provide instruction to a core of Rwandan medical students and residents so that they would develop experience in treating gynecologic conditions.

 During our two-week mission, women accompanied by their families traveled many hours to Kibagabaga hospital awaiting evaluation from our fistula team. The majority of our patients presented with complaints of continuous urinary and fecal incontinence that resulted from complications during deliveries of their children. It was not uncommon for younger patients to be accompanied by their new born babies, however there was also an abundance of patients in there 50s and 60s who were plagued by their incontinence for decades. Most learned of our mission through radio announcements and their local health centers and flocked to Kigali in the hopes of being made "dry."

 Everyday for two weeks our team performed pelvic examinations to determine which patients where candidates for surgical repair of their fistulas. In total we performed evaluations on 100 women, but only 40 were candidates for surgical management. The majority of our surgical candidates were patients with 3rd and 4th degree perineal lacerations that were never repaired after childbirth leaving them incontinent of stool. I am overcome by pride that our team successfully cured the vast majority of our surgical candidates.

 My experience at Kibagabaga hospital will be one of the highlights of my surgical fellowship training. Through this opportunity I have been able to provide care for an amazing group of women who can serve as ambassadors in their communities to encourage women to seek care for their gynecologic conditions. I hope that the Benjamin H. Josephson Fund will continue to provide valuable support to physicians in training who also wish to care for underserved populations.