Kimberly Downes, MD: MMC Pediatrics PGY3
Haiti: February 2017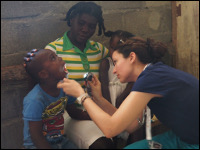 Stepping off the airplane in Cap Haitien, my first impression of the country was sheer beauty. Craggy green hills and clear blue skies stretched out around me. Then as we drove for hours over unpaved roads toward our home base for the initial segment of our trip, I caught my first glimpse into the local reality. Scenes of Haitians casually living their lives amid crumbling buildings and piles of trash filled the van windows, a testament to the inherent challenges of life in an impoverished island nation with limited infrastructure

 The first clinic day plopped me onto a rollercoaster of emotions. As the challenges of providing medical care in a developing nation sank in, I found my heart sinking alongside them. Minute to minute I was plummeting from the highs of making the diagnosis, providing the right treatment, performing the necessary procedure down to the depths of frustration over the overwhelming task of managing serious or chronic conditions with the limited resources packed carefully into my "doc box."

 Thankfully, as in most things, my perspective shifted over time. As the days passed I was able to refocus my efforts onto the patients themselves by providing reassurance to parents of well children, nutrition counseling to new diabetics, and education to young women for first pregnancies. I still doled out medications for impetigo, tinea, and scabies. I still handed each patient a bag of multivitamins and a dose of deworming medications. And I still gave out short-term supplies of antihypertensive and analgesic pills to those with chronic illnesses, clinging to the hope that the next team would provide the necessary refills as more permanent medical care was built up in the region.

 I didn't understand immediately, but the most impactful things we left behind in Cap Haitien and the rural communities along the northern shore were not "things" at all. Yes, those were all helpful in small or even big ways, but the real lasting impact was made up of time and of words. Knowledge is power, and the education provided to the people is, in my mind, our true legacy in Haiti.