Lorraine Tosiello, MD
Medical Service Trip to Tanzania for AIDS Prevention and Services: June 2007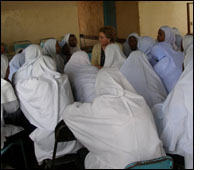 Dr. Tosiello's trip to Tanzania focused on assessment and delivery of HIV education and services. The trip began with a visit with officials from the Elizabeth Glaser Foundation and the Lyamungo Dispensary, a remote clinic site (visited on the 4th day of the trip), which is hoping to link to AIDS services in a hospital located 15 kilometers from the clinic site. Dr. Tosiello and her colleagues advised the clinic staff on service provision, education and testing. (Dr. Tosiello's team will be helping to develop written grants for the Lyamyngo Clinic to compete for funding for screening, prevention and treatment programs for HIV positive and AIDS patients.) Additionally, an AIDS prevention and knowledge and empowerment talk was given to 120 secondary school girls in Masawa.

 Each subsequent day was spent in a different area of the country, accessed by the Flying Medical Relief Services. 400 school physicals were performed; lectures were given to 150 nursing students on HIV care; the AIDS prevention/knowledge/empowerment talk was given to an additional 80 secondary school students; and an HIV ward of a remote hospital was visited, with a pulmonary abscess drainage performed by one of Dr. Tossiello's physician colleagues.

 As Dr. Tosiello wrote:

 "2007 is a moment on the verge of seeing a broad change in the care of HIV in Tanzania. The government has committed to universal access to antiretrovirals, but the challenges include lack of transportation and ability to access services, and a severely understaffed health care system (an estimated 10,000 additional HC workers are needed for the HIV crisis alone). Stigma still prevents most people from knowing their HIV status, with only 17% of Tanzanians ever being tested.

 There is much that needs to continue to be done, but the contacts made in the week in Tanzania will help me to effectively work for the clinical and educational needs of the schools and clinical centers that I visited."