Winston Liaw, MD
Honduras: January 2008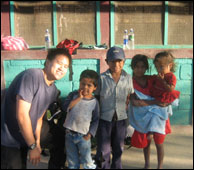 In June of 2007, 24 silver impregnated, ceramic water filters were sold to rural Hondurans for 20 Lempiras (approximately $1 US). House visits were performed and water samples were obtained during 0, 1, and 6-month visits. During the January Brigade through Shoulder to Shoulder, we completed the 6-month visit at these households.

 At the initial visit, the median annual incidence of diarrhea in households was 2, and at the 6-month visit, the median incidence of diarrhea over the preceding 6-month period was 0. In the next couple of months, 50 more filters will be distributed to families in the region.

 Traveling to Honduras was a humbling experience. While assessing the water filters, we hiked through farmlands and back roads, and the overnight trip we completed to reach these households was easily one of the most rigorous physical tests of my life. Returning to Pinares on the second day of our 2-day backcountry hike, we were guided by 3 children from Llanos de Balas who happened to be getting their teeth varnished at the clinic that same day. Iris (age 12), Wilmer (age 7), and Maria (age 11) patiently led us up the mountain that separated us from our clinic, housing, and clean water. They asked us whether we wanted to take the longer, flatter route or the more direct, steeper route. We told them that we would take the route they would normally take (which happened to be the latter). During the hike, I could not help but notice the striking differences between them and us. Us: sturdy hiking boots and backpacking gear worth hundreds of dollars. Them: plastic sandals. Us: several liters of water and multiple PowerBars per person. Them: zero bottles of water and zero PowerBars per person. This physical challenge was just another day in the life of a child in rural Honduras. The journey was typical of most of our patients at the clinic - a several hour hike through peaks and valleys just for 10 minutes of our time and a bar of soap. Humbling, indeed.