Bhumy Davé, MD: Northwestern University Medical Center Urogynecology Fellow
Rwanda: October 2016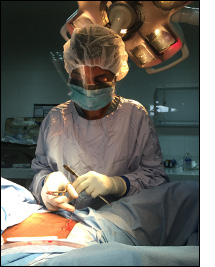 I would like to express my sincerest gratitude to the Benjamin H. Josephson Fund for supporting my medical mission to Rwanda. The purpose of this mission was to provide care to women with fistulas—connections between the rectum/bladder/ureter and vagina that leave women constantly soiled with urine or feces. These fistulas occur most often due to prolonged labor (days to weeks) without access to a cesarean section when labor has stalled. The result is pressure, loss of blood flow, and formation of a fistula. In other cases, the fistulas are due to injuries that occur during cesarean sections secondary to minimal training on the procedure. Many of these women leak constantly are ostracized from society and their families. Not surprisingly, rates of mental health disorders and suicide are high in this population.

 During the mission, I worked with a team of doctors from the International Organization for Women and Development (IOWD) to identify the fistulas and subsequently repair the fistulas when possible. Women traveled from all over Rwanda to seek care. The diagnostic tools are limited and we relied heavily on simple physical examination skills. The surgeries are often complicated and require quite a bit of skill. I was fortunate enough to assist some of these surgeons as they repaired fistula after fistula, giving many of these women their dignity back. In addition, education was an important part of the mission; we worked alongside Rwandan medical students and residents teaching them about fistulas and other gynecologic problems.

 On a personal note, there were parts of the mission that were emotionally difficult. Certain fistulas are non-operable, i.e. fixing the fistula will not result in continence. The most challenging portion of the mission was telling the patients that we cannot help. The feeling of utter helplessness was one that I have rarely experienced before. It made me understand why we cannot focus only on repairing fistulas but must work hard to prevent these fistulas through improvements in obstetrical care.

 I cannot thank Benjamin H. Josephson Fund enough. It is my lifelong mission to provide care for the underserved at home and abroad and it is with your generous support that I am able to continue down this path.