Sanam Roder, MD
Ghana: July 2009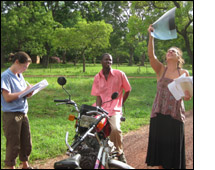 I was called at 5:20am, "Please, Doctor, I cannot place the cannula." I rode my bike to the hospital through a freshly plowed field. In the distance I could see fog rising from the Oti river, and people were already walking the winding paths through the countryside.

 The child whimpered, but didn't cry out when I tried to place the needle in his veins. I drew back only sluggish yellow serum. As someone delivered a note to the surgical nurse, alerting him that I needed the theater to be opened for a cut-down to the child's saphenous vein, I was called to see another "very ill child". The 8-month old was in a metal crib surrounded by family. He lay peacefully on several colorful cloths on a stained plastic mattress. I heard his last heartbeats through my stethoscope, gave chest compressions while I asked the assistant to bring me a bag mask to give respirations. He said there was none.

 The first mother sat in a wheelchair with her malarial child draped over her arms as we prepared the surgical instruments. She yelled out; I came over to find the 5 month-old rigid with his hands near his face. His heart had already stopped.

 I cursed the River Oti over my shoulder as I pedaled back home. I didn't want to see how beautiful this dangerous place could be. At that moment the landscape was just a pretty cover for mosquitoes, snakes, and bacteria that killed small children. My dramatic thoughts faded, maybe too quickly, as I curled up under my bed net and fell asleep.

 I spent four weeks at Saboba Medical Center as the only physician. I rounded on up to 60 patients every day - premature newborns, seizing children, bleeding pregnant women, teenagers with snake bites, old men with tuberculosis. I did cesarean sections in the warm operating theater, using recycled lap pads to swat mosquitoes from the sterile field. When there was a free moment, I frantically read medical texts trying to compensate for my minimal clinical experience - I graduated from family medicine residency exactly 9 days prior to my first day in Saboba.

 I feel like I had a clinical growth spurt this summer. As someone who entered medical school precisely to practice medicine in remote hospitals in Africa, this summer was a critical educational experience. I am certain that I will return to Saboba Medical Center, maybe one day as a permanent addition to the stressed medical system in this isolated part of the world.