Amish Tilara, MD
India: January 2010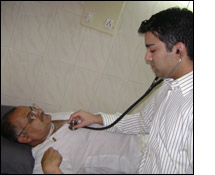 As I walk to the local clinic I see a line outside of about 40 people waiting to be seen. There was no system of making appointments or an insurance plan that requires you to go to a certain physician. I walk into Dr. Patel's office and I see him discussing the options of surgery for a woman that has a fibroid uterus. However, due to the educational difference, he told the woman she had a wound in her genital area that is causing pain and needs to be removed. There were no other options provided between medical and surgical management. He saw the women for roughly 3 minutes before giving her the plan and telling her what to do. This was the practice in my clinic.

 The treatment given and the conditions seen were very different than what I was used to. I saw things from malaria to genetic deformities never taken care of at birth. It was a learning experience like no other. Luckily, I was able to speak the local language and communicate well with my patients. I tried my best to educate each patient that I came across to the best of my ability. The limiting factor was time. There was always a line of 40-50 people waiting outside the clinic before we opened every morning. These patients ranged from being critically ill to having the common cold. I was told to see each patient, examine them, diagnose them, and write them a prescription within 5 minutes. The generic drug market there is very effective and almost universally affordable. The one thing I will never forget is how appreciative the patients were and how much they respected what I did for them.

 My experience in India is one that I will never forget. I saw and learned so much about not only medicine, but also culture. It truly became apparent to me how lucky we are for our medical system and our resources. After having this experience I have decided that I want to integrate international medicine into my future practice.