Grace Shih, MD
Honduras: February 2010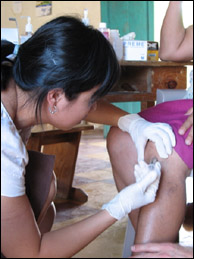 We were off to a rocky start because as soon as we landed we found out that one-third of our team had their flight delayed due to the winter storms in the northeast. With our team and supplies slightly smaller, we decided to forge ahead and set up clinics in two towns, Guachipilincito and Magdelena. Guachipilincito is a small town that has a partnership with Brown University and is in the process of building its own medical clinic.

 We set-up stations for the Children's Health Initiative which include height/weight, hematocrit, vision exam, dental varnish and education, de-worming, vitamin A, and general medical consults. We also saw adults for general exams and offered cervical cancer screening for women using visual inspection with acetic acid (VIA). We also were able to provide some continuity of care by following-up with a child with achondroplasia and another child with Down's syndrome whom we had met two years ago. Both kids are doing very well and having extremely supportive families.

 Magdelena was 1.5 hours from Concepcion. In the morning, we would load a mule with our medical supplies and hike 45 minutes down to the river. At the river, we would unload the mule and carry our supplies over a rickety wooden bridge. The bridge could only be crossed by those on foot - cars and horses were unable and unsafe to cross. At the other end of the bridge, we would load a truck which would bring us the remainder of the way to Magdelena. There, we were welcomed by the Magdelena committee that had been organizing for our brigade. There were hundreds of patients waiting for us and the town was hopeful that someday they could have their own medical clinic as well. We appreciated the need for a clinic here, knowing that once the Guachipilincito clinic was built, the people of Magdelena would have to travel the same 1.5 hours (or longer, if walking the whole way) we just traveled to see a healthcare provider.

 As a first-time brigade leader, I am very proud to report that our team saw over 500 patients in our week-long visit, provided continuing medical education, and attended the opening of the Concepcion Hospital. Though the medical work we provided was extremely rewarding, it is the relationships I have formed with the community as well as individual patients, students, and fellow brigade members that makes me return each time.

 Thank you to the Benjamin Josephson Fund for this opportunity to create lasting relationships all around the world. I can't wait for my next trip.