Esgar Guarin, MD
Honduras: July 2010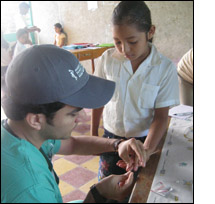 The arrival happened at San Pedro Sula's airport, in the northern section of Honduras. The flights took place without delay. Once on Honduran soil, we started approaching each other to know those who were going to be our companions for the next 7 days. Already in our cars, our first stop was El Progreso, a small town about two hours south of San Pedro Sula. We spent the night there to go our way the next morning to Guachipilincito.

 Approaching the last big town in our trip, La Esperanza, the road conditions changed and a narrow dirt road through the mountains pleasantly reminded me of my experience as a rural doctor in Colombia. The trip was about six hours from San Pedro Sula to the village of Guachipilincito.

 The first impression was that of a small and very remote village, isolated and almost inaccessible where the needs were evident everywhere. However it was a wrong impression because it lacked initially the warmth and candor of the local people whom, with their authenticity, made the place one in which those needs and the distance became irrelevant before the happiness displayed by its inhabitants.

 Hikes in the day and at night, either for visits to the village's elders who couldn't move and needed our assessment, or the constant "back and forth" between the local school and the unfinished clinic (where we slept), were part of our daily physical tasks. The sounds of nature seemed to become more noticeable, finer and more piercing in the ear. The rain, almost daily, scared away some of the locals who might be have been interested in medical consultations with us.

 Guachipilincito was a very meaningful experience. An experience that took me back to that point where years ago I made my professional decision for family medicine. Being in this remote village revived a sense of simplicity, and an immense gratitude for the possibility of enjoying the benefits of living how we do. Sharing with more than a dozen volunteers was the testimony that the interest in doing the right thing, for those in need, still exists in the collective interest of many today.

 The experience in Guachipilincito left at the end a clear teaching: despite the obvious difficulties and restrictions imposed by the environment, there is always a smile in those children whose future may be limited, and happiness in the certainty that being alive is all they need to continue working hard.