Cai Ling Wang,MD
Cameroon: July 2006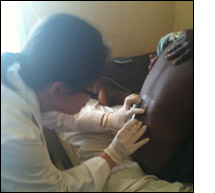 Through the grant I received from the Benjamin Josephson fund, I was able to travel to Cameroon to work at the Mbingo Baptist Hospital as a pediatrician for 3 weeks. The hospital is situated in the beautiful rural northwest region of Cameroon at a mountain pass and serves patients from hundreds of kilometers around. There are a total of 270 beds in the hospital, including 20 pediatrics in-patient beds, a special 6- bed hematology ward, a busy mother-baby unit and outpatient pediatrics clinic. In addition to medical care, the hospital also offers training programs in medicine/pediatrics and surgery. My responsibilities at the hospital included leading pediatrics ward rounds, seeing babies in the mother-baby ward and working in the pediatrics clinic. In addition, I was also responsible for providing didactic sessions for the medicine/pediatrics residents weekly.

 During my time at the Mbingo Baptist Hospital, I was able to see a wide range of pathology from bread and butter pediatrics cases to tumors and tropical infections such as malaria, tuberculosis, typhoid fever and amebiasis. HIV remains prevalent in pediatric population through maternal transmission during birth. The special hematology ward consists mostly of patients with Burkitt's lymphoma secondary to high incidences of malaria. I also really enjoyed interacting with patients and families in the outpatient setting. Although I did not speak the languages (Pigeon English and French) of Cameroon, the patients were always appreciative and grateful for any advise/treatment given to them.

 This experience has enriched my training as a physician in many ways. Since there were limited resources at the hospital, we did not have as many imaging and laboratory testing at our disposal. There was only one x-ray machine, one sonogram machine and limited lab tests. We could not perform any microbiological testing and there were no ICU monitoring or ventilators at our disposal. As a result, we had to rely much more on our clinical diagnosis skills. It forced us to think more critically about each patient and their symptoms. The responsibility of leading ward rounds daily also enhanced my confidence to make clinical decisions and my ability as a supervising teacher. I would like to thank the Benjamin Josephson fund for making this great experience possible!

 I didn't want to leave and I can't wait to go back. This was one of the best experiences of my life.